InterPlay Conductor - Overview of Contents Management System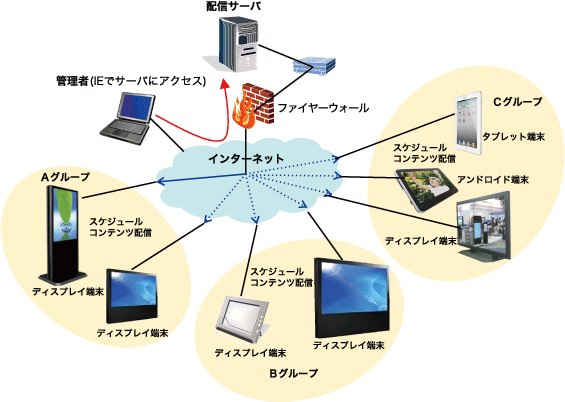 (1) Easy and simple system configuration and a setup
All the managements (contents / schedule / terminal surveillance) of signage are possible for an administrator only at a WEB browser (8.0 or more IE).(Installation of application is unnecessary)
Moreover, the terminal side only installs viewer software in the Android terminal*1 + display set by the use, and can display signage immediately.
(2)Various contents media
It can support to various contents media, such as a movie (MPEG4, 3GP), an image picture (JPEG, BMP, PNG, GIF), a flash (SWF, FLV), a web page (HTML), a text telop (Android font), and a sound (MP4, M4A, MP3, 3GP, MIDI).
(3)A various template (a width type and a length type)
According to a display style, It is preparing various templates (a total of 47 kinds). And a user can change a division size layout freely. (Refer to Fig. 2)
(4)The playlist function which can be combined freely
The information distribution of a rich expression is possible, combining freely various media (a movie, a flash, HTML, a picture, and a telop) on the screen of division (or full screen). Moreover, it is also possible to check the playlist which created on a viewer (preview).
(5)A time schedule setup which can be set up per time (hour/minute/second)
The playlist which wants to display can be set up by a system for 24 hours.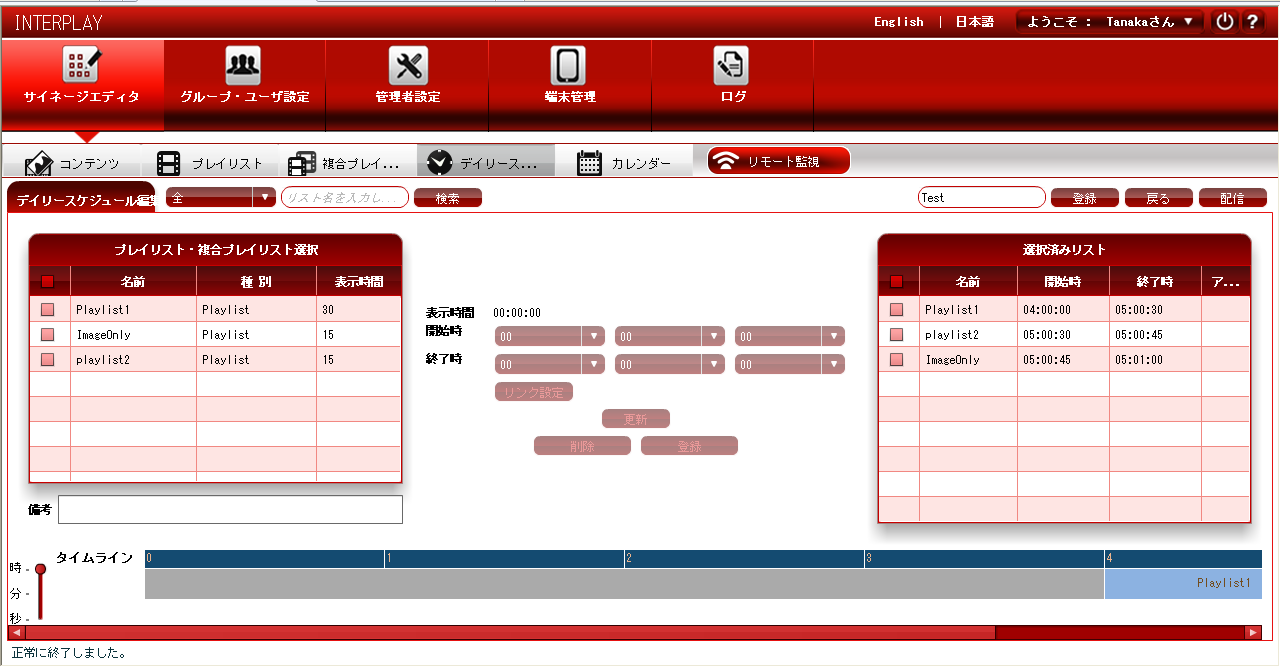 (6)The calendar function which can change the contents of a display per day
Only a day unit, a day-of-the-week unit, or a specific week is able to display the playlist specially.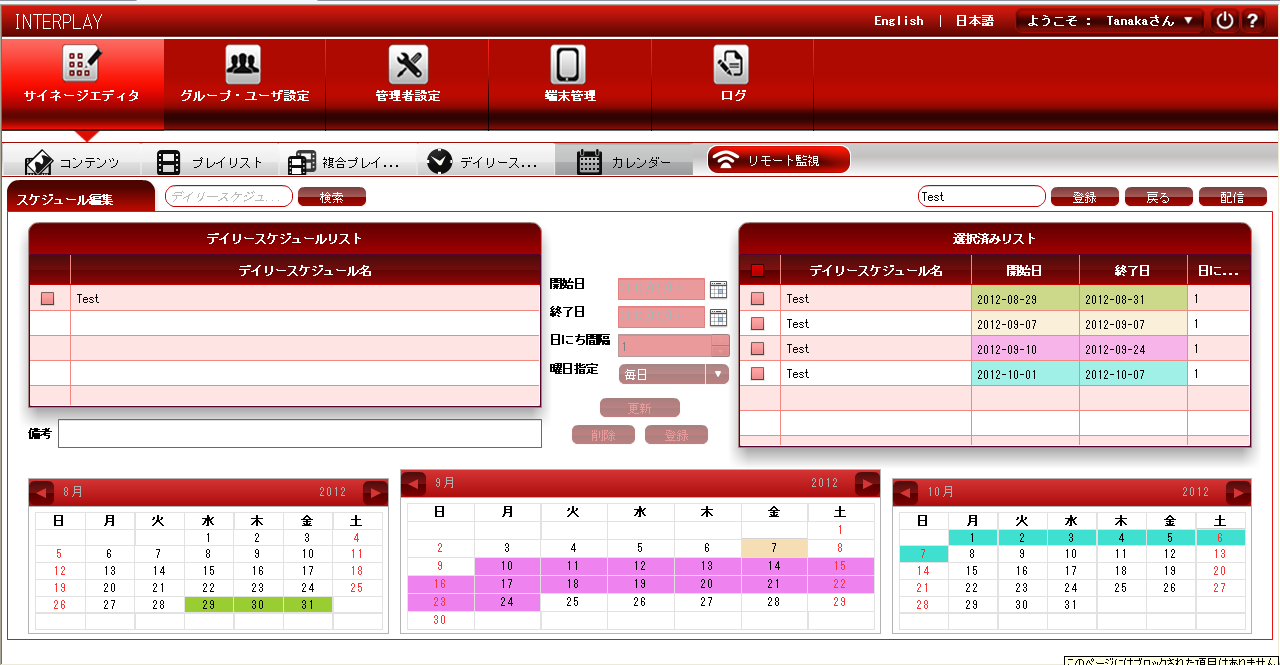 (7)Distribution service according to a network situation
According to the network situation by the side of a display terminal, it supports on-line mode distribution, off-line mode, and push mode distribution(option).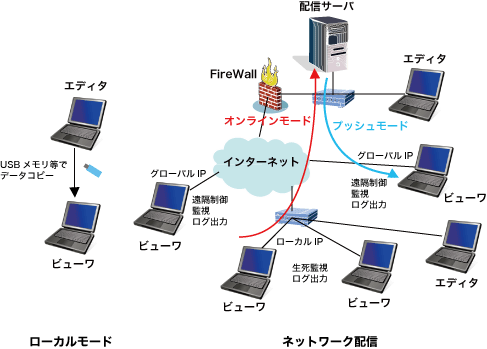 (8)Detailed terminal surveillance and terminal control
It is possible to perform detailed surveillance and management of a display terminal. *2 When an abnormal value can be set to a surveillance item and the value is exceeded, e-mail informs the administrator who has managed the terminal.
(9)Log function (an event log, a surveillance log)
In addition to the touch event of a mouse and Felica event, the above-mentioned surveillance log can be perused on a server at any time.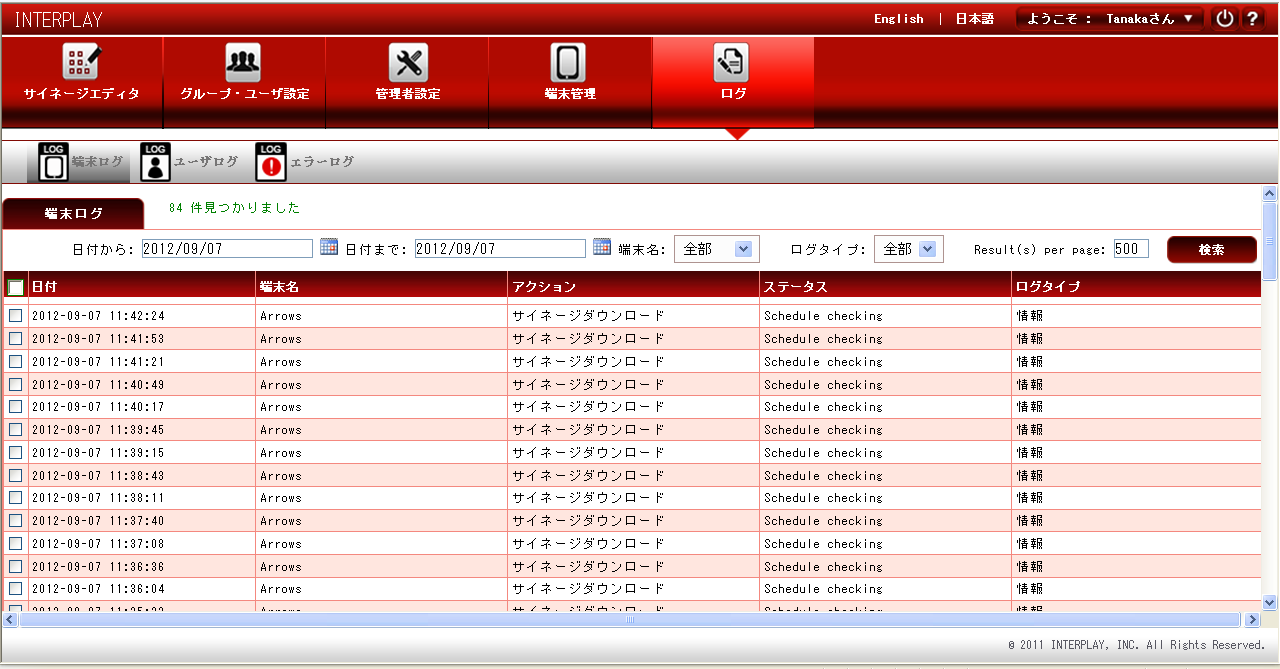 (10)Administrator class function
It is possible to divide a login class into an administrator/user, and for a maximum of 4 classes to create it.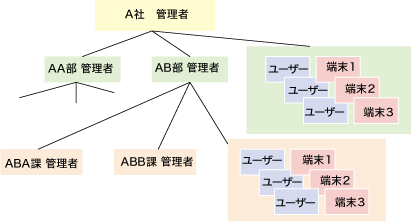 (11)Change of a mobile phone to a telop is possible.
It is possible to change the appointed telop from a mobile phone. Even when there is no PC for management in a display terminal side, a telop can be changed timely.
*1:Android 2.2 or higher
*2:These pieces of information acquires information in the unit of the request cycle set by the terminal side. At an Android terminal, acquisition of system resource information, including CPU etc., is not supported.